Hosszúnak tűnő, ám a szöveget tekintve még sem olyan terjedelmes tudósítás következik a Down, a The Hives, a The Donnas és a Black Lips prágai koncertjéről.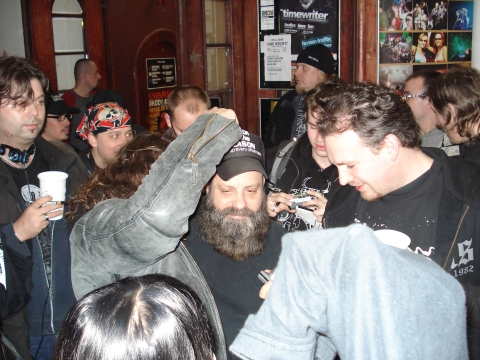 Down @ Roxy
Telt ház, óriási hangulat, (rengeteg magyar zsivány látogatott ki a hangversenyre), két óra röfögés. Állítólag szarul szólt, Anselmo hamisan énekelt, a dobos összevisza kalimpált, Pepper pontatlanul játszott, szerény személyem azonban semmit nem észlelt ezekből. Mondjuk én ilyen egyszerű gyerek vagyok. Ha már 3-nál több akkord van egy dalban az jelentősen meghaladja a képességeimet. A szólózást meg egyenesen bűnnek tartom. Jogosan merül fel tehát a kérdés, hogy akkor mi a frászt kerestem egyáltalán egy Down koncerten. Fogalmam sincs. Ott voltam és király volt. Igaz a végén már untam egy kicsit. 
The Hives/The Donnas @ Roxy
Nem vettem meg előre a jegyet, mert eredetileg úgy volt, hogy ez a koncert nem fér bele a túrába. Aztán úgy adódott, hogy mégis el tudok menni, a helyszínen viszont sajna nem lehetett tikettet kapni. Kicsit körbenéztem a környéken hátha van valahol egy jegyiroda, de nem volt, úgyhogy maradt az óváros téri egyházkórus acapella előadása. Az is baba volt.
Black Lips @ Klub 007 Strahov
A Strahov Stadion mögötti kollégium komplexum egyik épületének pincéje adott otthont a koncertnek. Állítólag 180-an férnek be, nekem jóval kisebbnek tünt. Klassz kis klub. Ennél szupibb helyet el sem tudok képzelni egy garázs rock bulihoz.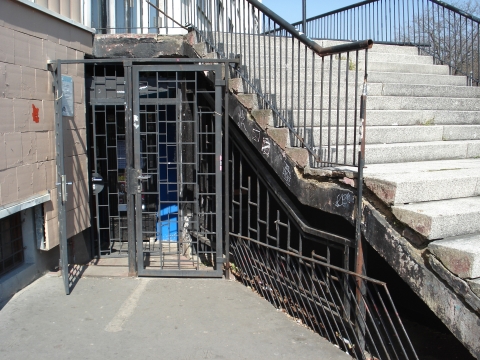 Elsőként érkeztem a helyre, ezért egy darabig elég hülyén éreztem magam, de az előzenekarok alatt szép lassan megtelt a terem, úgyhogy bő fél óra elteltével már nem kellett feszengem. Ily módon pedig a beállásról sem maradtam le. Atlanta legdilisebb garázs rockerei 9 óra körül léptek színpadra. Az első két szám alatt csak tátottam a szám és meresztettem a szemem, mert képtelen voltam felfogni, hogy családias hangulatban, egy szuper klubban itt játszik előttem a világ egyik legtutibb koncertzenekara. Aztán szerencsére felocsúdtam és a "tömegbe" vetve magam őrült ugrálásba kezdtem.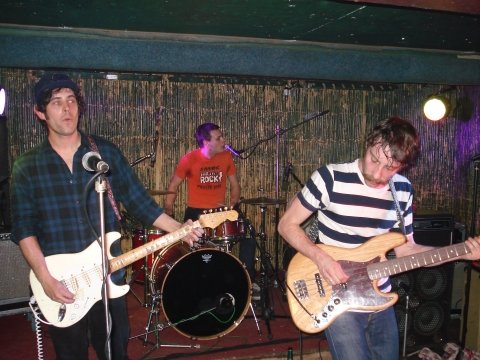 Természetesen az új lemez dalai voltak előtérbe helyezve, de játszottak szép számmal a korrábbiakról is. Volt pl. Stranger, Not a Problem, Sea Of Blasphemy és Boomerang is. Ezeknek különösen örültem. Az It Feels Alright és a Fad viszont sajnos kimaradt a repertoárból. Mindegy, nem panoszkodom. Az alkoholmámorban úszó dilis előadásmód és a folyamatos eszetlenkedés bőven kárpótolt. Sajnos kb 40 perc után be kellett fejezniük, mert 11 után már nem lehet lármázni a koleszban. Mondjuk amúgy sem hiszem, hogy sokkal többet játszottak volna. Máskülönben asszem én sem bírtam volna már sokaig, mert bő fél óra után úgy izzadtam, mint kurva a templomban. Ráadásul minden porcikám fájt a bugizás közben kapott balegyenesektől.
A koncert után elvegyültek a "tömegben" és együtt ittak a nagyérdeművel. Ez roppant szimpatikus volt. Ahogy az is, hogy végignézték az előzenekarokat, és ők árulták a portékáikat is. Mivel pólót nem hoztak magukkal, be kellett érnem két cd-vel, amit a képen látható remek bajusszal megáldott úriembertől vettem át.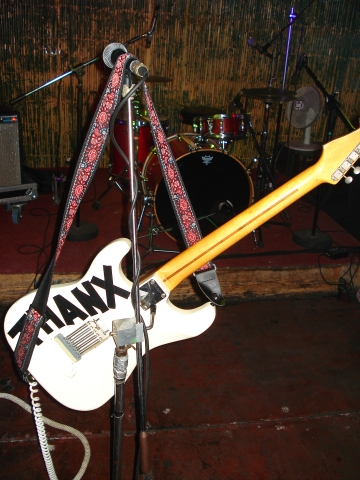 Na ne hülyéskedjetek! Mi köszönjük!!!!