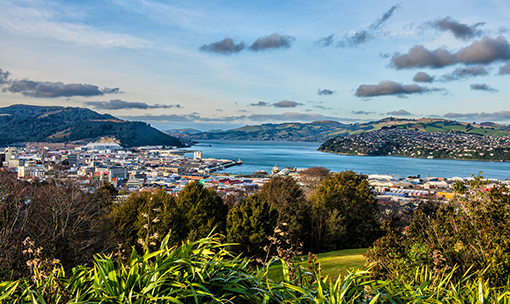 Új-Zéland a csodálatos tájak, a milliónyi vulkán és a legidétlenebb állatok hazája. Ezzel gondolom mindenki tisztában van. Azt azonban nyilván kevesen tudják, hogy a 80-as évek elején micsoda popkulturális foradalom robbant ki az országban.
Egy Dunedin nevű egyetemi városban ez idő tájt az összes fiatal "megbolondult" és zenekart akart alapítani. Tucatjával jöttek létre az olyan bandák, melyekre leginkább a 70-es évek punkja és a beat korszak volt hatással. Ebből aztán idővel kialakult egy sajátos hangzásvilág, ami Dunedin Sound néven vált ismertté, méltó választ adva ezzel a Nagy-Britanniában épp ekkor tomboló gitár pop őrületre.
Bár való igaz, hogy a kiwi popperek sokat merítettek az amerikai és a brit undergroundból, a későbbiekben kamatostul adták vissza a kölcsönt. Mi sem bizonyítja ezt jobban, mint hogy a 90-es években olyan nagyságok hajtottak fejet előttük, mint a Pavement, Barbara Manning, a Camper van Beethoven, a Superchunk, a komplett Elephant 6 kollektíva, vagy a Yo La Tengo.
The Enemy, Toy Love, Tall Dwarfs
Minden az Enemyvel kezdődött. A "Ellenséggel", amely útjára indította a "mozgalmat". Nyers, minimalista, sokszor az amerkai punk szintér együtteseit idéző muzsikájukkal hatalmas hatást gyakoroltak a stílus későbbi képviselőire. Össz-vissz két évig léteztek (1977-79), hivatalos lemezük pedig sajnos sosem jelent meg.
Chris Knox énekes-mindenes még anyazenekara fennállása alatt megalapította a lényegesen popcentrikusabb, imitt-amott new wave-be hajló szintén tiszavirág életű Toy Love-ot. 1980-ban 3 kislemez, 1 ep és egy nagylemez kiadása után azonban ők is feloszlottak.
Egy évvel később Knox és Alec Bathgate gitáros Tall Dwarfs néven létrehozta azt az együttest, amely nélkül valószínűleg sosem hallottunk volna a Neutral Milk Hotel-ről, vagy az Olivia Tremor Control-ról.
Aztán ahogy az lenni szokott, szólóban is kipróbálták magukat a fiúk.
The Clean
Legyen szó minimalista lo-fi-ról, klasszikus indie pop-ról, vagy zakatoló post-punk-ról, a kiwi pop koronázatlan királyai mindben rendkívül otthonosan mozogtak. Nem csoda, hogy hamar az egyetemi rádiók kedvenceivé váltak. Még lemezük sem jelent meg, de már akkora rajongótáboruk volt, amin valószínűleg ők is meglepődtek. És ez még csak a kezdet volt. Az igazi csoda akkor következett be, amikor Roger Shepherd a banda egyik legnagyobb rajongója alapított egy lemezkiadót, hogy a Clean dalok végre vinyl-en is megjelenhessenek. A Flying Nun azóta is a kiwi pop bandák fellegvára. A mai napig ők adják ki a legszuperebb új-zélandi lemezeket.
The Bats
A The Clean basszerosa (Robert Scott) által alapított dunedini kvartett, az ország legcsilingelőbb, legszentimentálisabb zenekara, akkora sláger arzenállal, mint ide Christchurch.
The Chills
Ha valaki készítene egy olyan szakácskönyvet, amiben étel helyett csilingelő gitárpop receptek lennének, egész biztos, hogy minden második oldalon összefutnánk a Martin Phillips vezette banda ötleteivel.
The 3ds, Superette
Új-Zéland válasza a Pixies-re és a Pavement-re.
The Dead C
Ők pedig a dunedini Sonic Youth. Félelmetes, ijesztő, sőt már már kétségbeejtő, amit Bruce Russel a gitárjával művel. Bármibe lefogadom, hogy Kim Gordon távollétében Thurston Moore rájuk onanizál.
The Verlaines
Pop, punk, beat, mod, folk, indie rock katyvasz egy hatalmas kiwi bendőjébe gyömöszölve.
Look Blue Go Purple
Az egyetlen csupaj csajból álló klasszikus kiwi pop formáció.
Goblin Mix
A legcsodálatosabb téli hangfolyamot jegyző zenekar.
Sneaky Feelings
Ha máshonnan nem is, Elvis Costello, My Aim Is True című lemezéről biztos ismerősen cseng a nevük. Kiwi pop klasszik!
The Terminals
Nagyívú garázs rock, post-punk hibrid, elképesztően szuggesztív énektémákkal. Stephen Cogle a legnemesebb hangú kiwi popper. Talpig férfi ember. Bársonyos baritonja egyszerre idézi Jim Morrison-t és Edwyn Collins-t. Gitárnyúzása pedig talán egyedül Tom Verlaine-éhez fogható.