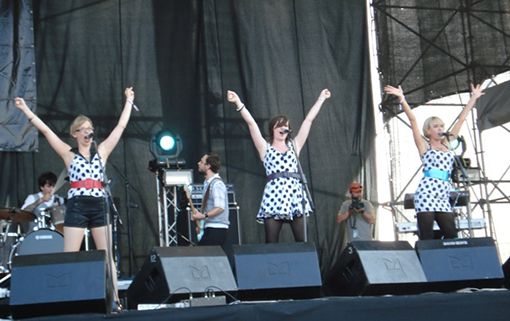 Sokáig csak álomként lebegett a szemem előtt, hogy magamból kikelve önfeledten ugrabugrálok egy Pipettes koncerten. Július 21-én azonban mindez valósággá vált. Két naposra terveztük a túrát, mert a szlovákiai Pohoda fesztivál más előadókkal is kecsegtetett.
Sajnos elég szörnyen indult a buli, mert néhány perccel a Cansei De Ser Sexy koncertje előtt, a konferanszié volt olyan szíves és közölte, hogy Lovefoxxx betegsége miatt az előadás elmarad... Innentől kezdve folyamatosan azon kattogtam, hogy mi lesz, ha holnap is... Hálistennek, vagy inkább a kellő mennyiségű Zlaty Bazant-nak, sikerült elhessegetnem a rámtelepedő rémképeket, így az esti Hives koncerten már úgy pattogtam fel-alá, mint egy félkegyelmű gumilabda.
Másnap végre eljött a várva várt pillanat. Már az intro alatt teljes extázisban voltam, pedig ekkor még híre-hamva sem volt a csajoknak. Aztán egyszercsak felcsendültek a Don't Forget Me kezdő akkordjai, a lányok felszaladtak a színpadra, én pedig átestem egy könnyű szívrohamon. Miután defibrilláltam magam, rögtön táncra perdültem és abba sem hagytam a végéig. Egy idő után egyre többen követték a példámat. A végén pedig már mindenki ugrabugrált körülöttem. Még a mellettem álló, Venom pólóban feszítő keményvonalas black metal figura is.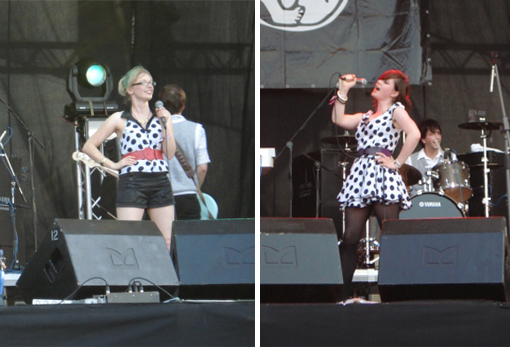 Egyetlen slágert sem hagytak ki a repertoárból. Sőt, terítékre került három B-oldalas  szerzemény (The Burning Ambition Of Early Diuretics, True Love Waits… , Really That Bad) és néhány új dal is. Zseniális volt mindegyik!!! Remélem kivétel nélkül felkerülnek az új lemezre.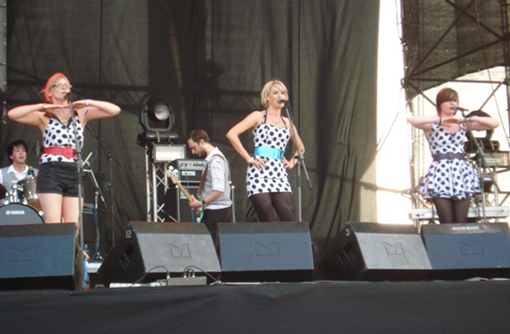 A tökéletes korreográfia pedig már tényleg csak a hab volt a tortán. Komolyan mondom zene nélkül is simán végig tudtam volna nézni, ahogy bő 1 órán keresztül fülig érő mosollyal ugrabugrálnak a színpadon. Az pedig, hogy néha bénáztak is egy kicsit (először Gwenno-nak, majd néhány dallal később Rose-nak is meggyült a baja a szintetizátorral), valahogy még imádnivalóbbá tette őket..

A koncertet természetesen a We Are The Pipettes-el zárták. Hatalams "Come on Pohoda"  felkiálltással egy utolsó táncra hívták a közönséget, majd néhány puszi dobás kíséretében levonultak a színpadról.
Setlist:

1.  Intro
2.  Don't Forget Me
3.  Because It's Not Love (But It's A Feeling)
4.  Why Did You Stay?
5.  Your Kisses Are Wasted on Me
6.  Your Love For Me
7.  It Hurts To See You Dance So Well
8.  Really That Bad
9.  Tell Me What You Want
10. Baby Don't Leave Me
11. The Burning Ambition Of Early Diuretics
12. True Love Waits Patiently For A Miracle
13. I Love You
14. Guess Who Ran Off With The Milkman?
15. By My Side
16. Judy
17. One Night Stand
18. Dirty Mind
19. Pull Shapes
20. We Are The Pipettes